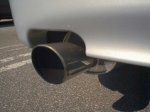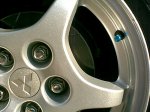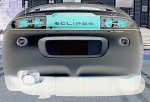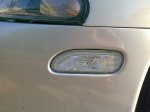 Home -- Performance -- Member's Rides -- Message Board -- Vendors -- Other Links
---
Performance Upgrades
POWER UPGRADES
Intake
I have not found an intake that is currently being made for our car. Since we have the airflow sensor, we need an adaptor to fit the sensor. Here's what I found out through all my calls, emails, visits to NOPI, etc.
Weapon R made an intake very briefly for our car but had some sort of production problem and stopped making them. Everyone over there at Weapon R doesn't speak English well so I never did understand the full story, but he made it sound like they may make them again. I have seen people listing Weapon R intakes for 94-98 Galants for sale for around $100 as a MAS adaptor and filter and these should fit.
Injen was approached by an NT Spyder owner in California and they made a prototype but decided it wasn't worth the cost to make them, so they gave the prototype to him and discontinued the idea.
HYPERformance in California was my last stop for an intake. They were very helpful and I ended up tracing our airflow sensor layout and they found an adaptor and filter that would fit. Try calling them if you need an intake. It ended up costing me around $100 and sounds awesome above 5000 RPMs.
After pursuing the turbo route, I learned that they share the same airflow sensor as us, so any adapter/filter kit (but not full piping kit) made for them, should work for us.
Exhaust
All 2G FWD catbacks should work. I currently run a Greddy SP exhaust made for the 2G FWD NT Eclipses and it works fine. I did have to make another hanger to prevent the exhaust from banging into the rear axle, but I've heard most 2G Eclipses have this problem with aftermarket exhausts.
Header
Your guess is as good as mine here. Other 2G headers won't work. If I can get a dealer schematic on the exhaust manifold HYPERformance says they might be able to find a header that will work. There has been talk that Greddy will make a header for the 00 Eclipse RS/GS before the end of the year and that should work on our car.
Underdrive Pulleys
The stock crank pulley for GSTs is the same part number as the stock pulley for the Spyder. We also use the same alternators, so the Unorthodox Racing underdrive pulley (and other brands) work on our car. Make sure you have an impact wrench handy for the install! I'm not sure about the other pulleys (alternator pulley, water pump, etc) Unorthodox makes for the GSTs - I don't think they all work.
Turbocharger
Of course you want to know about the big power. First of all, YES A TURBO IS POSSIBLE and without an expensive kit. Check out this page for my turbo install information.
SUSPENSION UPGRADES
Springs
Eibach has a specific kit that is for the Spyder. It drops the car 1.6 inches. Because our cars are heavier, our springs are different that the regular coupe. Eibach also has camber kits specifically for the Spyder. All 2G FWD springs should work on our car, but they may sag.
Sway Bars
Since we don't get a factory rear sway bar, Suspension Techniques makes a kit with front and rear sway bars that is supposed to greatly combat the understeer we suffer from.